Transcription service
for scientific
Interviews
Since 2007, we have been creating transcripts exclusively according to scientific rule systems and process over 1000 interview hours annually.
Transcription rules dresing&pehl
Trained transcriptionists
DSGVO compliant
Directly reachable by phone & e-mail
4-eyes principle & QDA-compatible
Our offer
We transcribe the interviews conducted by you according to scientific standards, in accordance with the transcription rules dresing&pehl (2018), which we developed and continuously update. Transcripts produced by us are compatible with all common software for qualitative data analysis, such as f4analyse, ATLAS.ti or MaxQDA, and contain time stamps.
The basis Transkript includes the transcription according to the simplified rules (cf. p.20ff) and can be offered at a reasonable price due to the omission of a second correction carried out by us. It is especially suitable for smaller projects where you can handle the correction yourself or projects where the highest accuracy is not absolutely necessary.
The standard transkript is also transcribed according to the simplified rules and additionally includes the second correction performed by us. This means that you can start the analysis immediately without having to do it yourself. Ideal for projects in the context of qualitative content analysis.
The extend transkript is transcribed according to the extended rules (see p.22f) and is also checked again by us. Especially if your research is not only about what is said, but also how it is said, this offer is perfect for you.
Popular Offer

Standard
Basic
Extended
Individual interviews
2,20 €
3,30 €
3,60 €
Group interviews
6,00 €
6,60 €
Basic special: 2,15 Eur per minute
We have not only reduced the price of our popular basic offer, but also expanded it to include telephone recordings:
Applies to content-semantic transcription rules according to dresing & pehl 2018 without second correction (cf. basic offer).
Includes interviews in German up to 2 speakers
Minimum assumption is one audio hour of total material (60 minutes)
This offer also includes telephone interviews and video files converted into an audio track. Due to possibly reduced audio quality, there may be frequent incomprehensible passages here, which you can probably change and improve yourself during the evaluation if necessary.
How do I get the basic offer?
Please specify "basic offer" when requesting a quote.
The following services are included in all our offers
DSGVO-compliant processing via our servers
Processing of poor quality audio files
Transcription by trained transcriptionists
Setting of time marks
Second correction (not included in the basic transcript)
Transcripts prepared QDA software compatible
On request, in addition to the transcription of German-language interviews, we also offer the transcription of English-language interviews according to the adapted transcription rules for English according to dresing/pehl. (no translation)
All our prices are all-inclusive, i.e. no surprises or hidden costs await you. Despite the greatest care, you must expect that with recordings of poor audio quality or slight dialect/accent, not everything can be understood.
Trained transcriptionists
Our German transcriptionists often have scientific backgrounds themselves and are trained in the application of scientific transcription rules. Their particular advantage is that we can form specific transcriptionist groups for your project, thus improving the consistency of the material and ensuring timely implementation.
Our transcriptionists have also committed themselves to confidentiality and compliance with the new data protection guidelines. In addition, we conduct regular data protection audits.
DSGVO compliant & QDA compatible
Your interview material is safe with us! The file exchange takes place encrypted via our own server in our offices. At the end of the contract, we delete all audio files and transcripts delivered to us. We will be happy to explain our DSGVO-compliant procedure to you and demonstrate how we comply with relevant aspects.
In addition, all our transcripts are compatible with common programs for qualitative data analysis (e.g. f4analysis). This means that your texts are prepared for manual and automated editing and contain appropriate time stamps, speaker separations and memos in the correct file format.
David Georgi
Together with Ms. Kolakusic, I coordinate the transcription service and supervise the audio technology. I will be happy to advise you on recording equipment, the best setting for a group discussion or a telephone interview, as well as on the technical post-processing of your audio files. — Test reports on audio recorders (here)
Extension: +49 6421 590979-13 (Mon-Fri 9 am – 3 pm)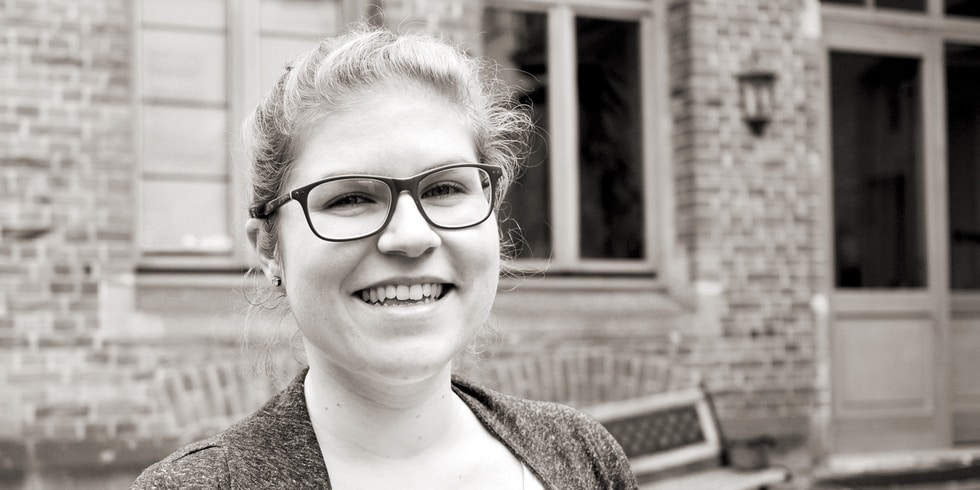 Bianca Kolakusic
Together with Mr. Georgi, I coordinate your transcription project and am responsible for quality assurance. I will be happy to give you tips on how to conduct your interviews in advance and provide you with the most suitable quote.
Extension: +49 6421 590979-15 (Mon-Fri 9 am – 3 pm)
"We have already worked together for various projects and recommend it to anyone who wants to have individual and group interviews scientifically transcribed in high quality."
Dr. Stefan Brämer – O.v.G. University of Magdeburg
This is how it works
Making it DSGVO compliant: The paperwork. You send us the information about your project, we create a quote and send you the associated documents to countersign.
Encrypted file transfer: You receive access data to our server on site (no cloud!) and upload the recordings.
Audio quality control: we check the audio quality, give feedback and start transcription after your confirmation.
Transcription and quality control: your transcripts are always edited by 2 people. This significantly increases the quality. You receive the finished transcripts after exact correction for download in your server access.
Of course: Data deletion. nless otherwise agreed, we completely delete all audio and text documents from our server four weeks after the invoice date.
Recording tips
Good recordings make transcription easier and enable a smoother workflow. Here are some tips to help significantly improve the quality of recordings: